Multi-Function Device Modeling: MFD> Scan Service next steps
MFD> Scan Service next steps
From: Zehler, Peter (Peter.Zehler@xerox.com)
Date: Fri Jul 11 2008 - 15:17:40 EDT
Next message:
Ron.Bergman@ricoh-usa.com: "MFD> MFPA Scanner MIB Posted"
---
All,

I have posted an updated version of the PWG Semantic Model v2. It is
available at <ftp://ftp.pwg.org/pub/pwg/mfd/schemas/PWG-SM2-Latest.zip
>. I wanted to get it out so Nancy can continue with her Resource
Service work. Below is a picture of what the Get operation looks like
at a High level. You will note in the WSDL file I have commented out
the explicit MTOM constructs. This was done so that code can be
generated using .NET tools as well as others.

The updated model reflects, I hope, the changes requested from the last
face to face meeting. I am in the process of updating the Scan Service
specification but I will not be able to finish it today. I will be on
vacation all next week and I will complete it when I return. The
specification should be in near final form. I will get it out and
update the MFD web pages upon my return.

My next planned teleconference will be on July 31. I will send out the
details when all the documents are in place upon my return.

Pete

Peter Zehler

Xerox Research Center Webster
Email: Peter.Zehler@Xerox.com
Voice: (585) 265-8755
FAX: (585) 265-7441
US Mail: Peter Zehler
Xerox Corp.
800 Phillips Rd.
M/S 128-25E
Webster NY, 14580-9701

---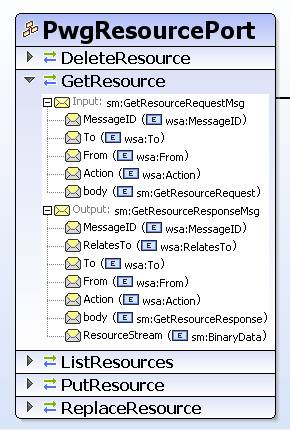 ---
---
This archive was generated by hypermail 2.1.4 : Fri Jul 11 2008 - 15:17:59 EDT