IPP Mail Archive: IPP> Greenwich 101
IPP> Greenwich 101
From:
Carl (
carl@manros.com
)
Date:
Wed Aug 14 2002 - 17:38:03 EDT
Next message:
Harry Lewis: "Re: IPP> Greenwich 101"
---
Hi all,

I am back from my trip to Europe and I am still trying to make head and tail
of the IPP discussion that happened while I was away.

However, in this message I wanted to draw your attention to the very stable
standard that was created in Greenwich some 270 years ago.

Greenwich is a small old style town southeast of central London. The locals
don't pronounce the 'w' in the name.

On a hill in a big green park is the Royal Observatory located. It was built
in the early part of the 18th century and was used to study astronomy. The
Queen's Astronomer at the time decided that his observatory should mark the
0 (also called Prime) Meridian on the globe and marked the exact location
with a painted line. Huge clocklike instruments were used to determine the
exact latitude in relation to the sun and the other planets. It is claimed
that if you have one leg on each side of the 0 meridian you are in both east
and west at the same time.

Along with the 0 meridian also comes the location for our time system, hence
Greenwich time (US military ZULU time).

I enclose a picture of the 0 meridian line.

Carl-Uno

Carl-Uno Manros
10701 S Eastern Ave #1117
Henderson, NV 89052, USA
Tel +1-702-617-9414
Fax +1-702-617-9417
Mob +1-702-525-0727
Email carl@manros.com

Carl-Uno Manros
10701 S Eastern Ave #1117
Henderson, NV 89052, USA
Tel +1-702-617-9414
Fax +1-702-617-9417
Mob +1-702-525-0727
Email carl@manros.com

---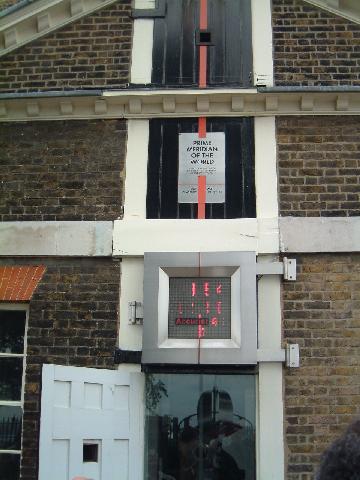 ---
---
This archive was generated by hypermail 2b29 : Wed Aug 14 2002 - 17:38:54 EDT